Book Titles, Please?
During a Twitter discussion about writing "rules", Frances Gilbert posited this idea:
If anyone critiques you with any set of rules, rather than a nuanced critique of your writing, find a new critique partner. Anyone who says a character must solve their own problems is encouraging everyone to write the same story. That story is unlikely to be acquired.

Frances Gilbert, Twitter
At first, I could not think of a single story that broke this "rule". After a while (and with help), titles came flooding in.
---
Thinking Cap Activated
Short of writing a thesis, I began to tinker with the idea of why those stories worked and organize them into something meaningful: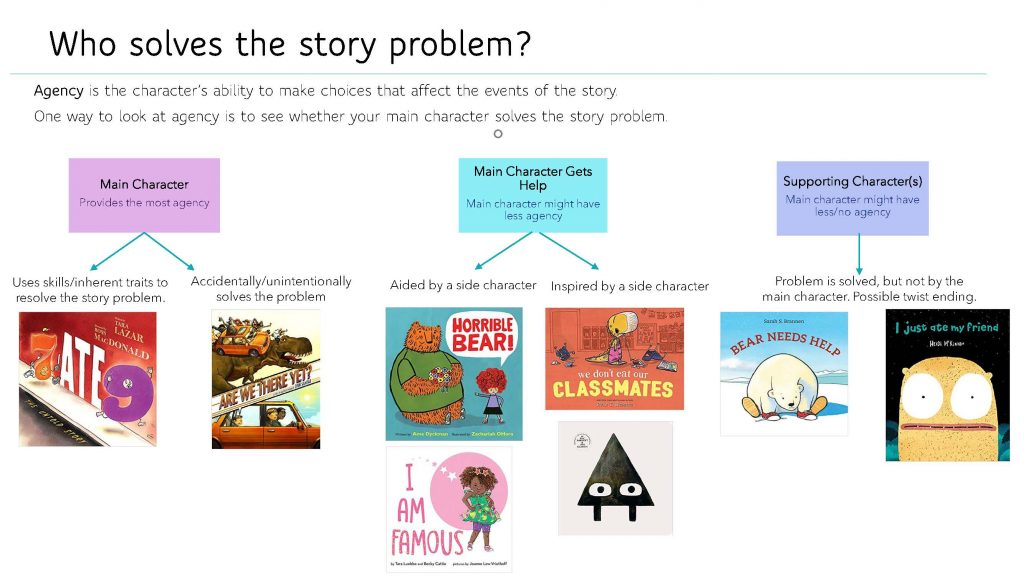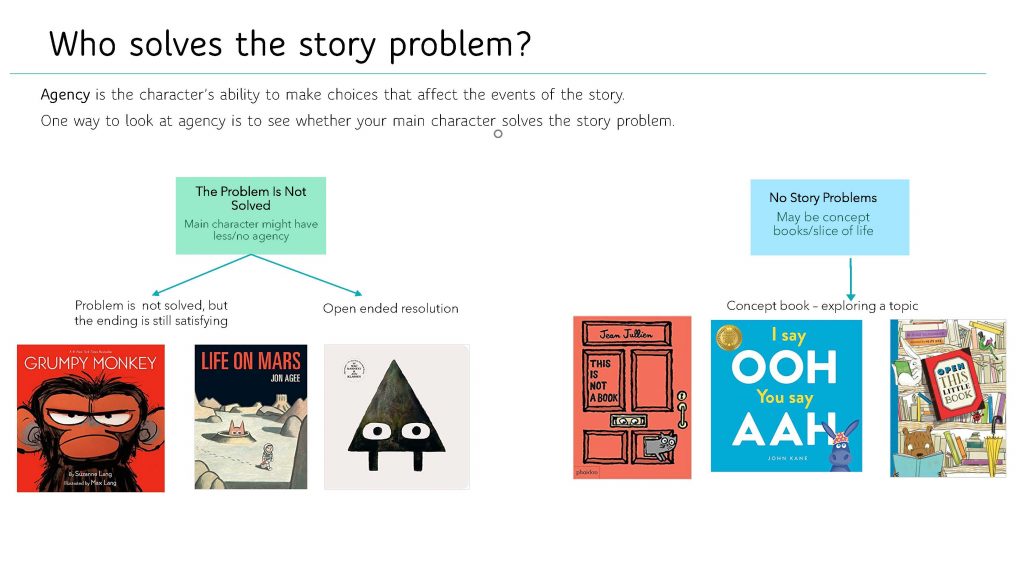 Character Agency 101
Giving a character agency allows them to impact the story. To me, agency is not binary but rather a continuum. Some books the main character has full agency, some agency, or no agency.
Why does it matter? One thought is that giving the main character agency is a way to give the reader agency. Often (but not always), the main character is a stand-in for the child.
Here are some reasons why you may want to think about who is solving the story problem:
It adds realism (Grumpy Monkey)
It supports a twist (Life on Mars/I Ate My Best Friend)
It plays with perspective (Horrible Bear/ Triangle)
It explores an idea (Open This Little Book)
It adds mystery (7 Ate 9)
It could be a slice of life (I am Famous)
Now What?
Read some books and think about who solves the story problem (if applicable). Check out fiction and non-fiction. What makes the story work?
Look at the illustrations, how do they try to answer the story problem?
Try changing the resolution of a current WIP/or rewrite a well-known story by changing who resolves the story problem. How does that affect agency? How does it make you feel as a reader? Does it work?
---
More Resources
➡️ Patricia C Wrede, Agency in Fiction
➡️ Nils Odlünd, Character Agency for Beginners
➡️ K.M. Weiland, How to Write Character Arcs
➡️ Josh Funk, Story Arc Components
➡️ Institute for Writers, Picture Books: Sound, Story, and Emotion